(1).Construction: Welded steel structure.
(2).Containment: High temperature membrane liner. Rating 212 F continuous. All penetrations in and out of the tank from the top, except for the overflow.
(3).Insulation: 50mm polyurethane foaming, superior heat preservation
(4). SUS3042B Food Grade Stainless Steel inner tank, superior water quality
(5).Corrosion inhibitor is added to the inside of the tank to protect the exterior of copper heat exchangers.
(6).Designs for Open or closed loop systems.
High pressure water tank without coil heat exchanger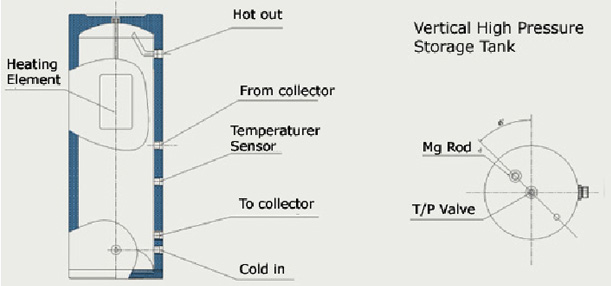 High pressure water tank with single coil heat exchanger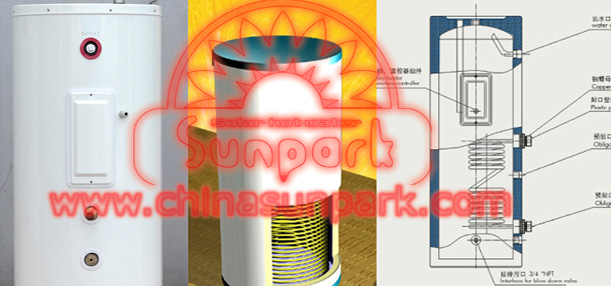 High pressure water tank with double coil heat exchanger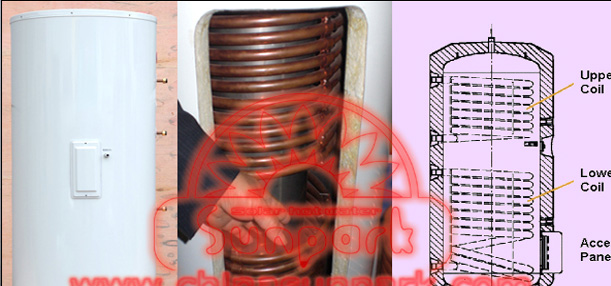 Capacity: 100L
Tank diameter: ¢385 mm
Foam Thickness: 45 mm
Glycol Inet/Outlet: G3/4
Water Inet/Outlet: G3/4
Dimension: Ø480*1040
Packing Size: 520*520*1100 mm
Capacity: 150L
Tank diameter: ¢385 mm
Foam Thickness: 45 mm
Glycol Inet/Outlet: G3/4
Water Inet/Outlet: G3/4
Dimension: Ø480*1470
Packing Size: 520*520*1530 mm
Capacity: 200L
Tank diameter: ¢440 mm
Foam Thickness: 50 mm
Glycol Inet/Outlet: G3/4
Water Inet/Outlet: G3/4
Dimension: Ø540*1500
Packing Size: 580*580*1550 mm
Capacity: 250L
Diameter (Inner /Outshell): ¢480 /¢570 mm
Foam Thickness: 45 mm
Glycol Inet/Outlet: G3/4
Water Inet/Outlet: G3/4
Dimension: Ø570*1560
Packing Size: 610*610*1620 mm
Capacity: 300L
Diameter (Inner /Outshell): ¢480 /¢570 mm
Foam Thickness: 45 mm
Glycol Inet/Outlet: G3/4
Water Inet/Outlet: G3/4
Dimension: Ø570*1840
Packing Size: 610*610*1900 mm
Capacity: 400L
Diameter (Inner /Outshell): ¢600 /¢700 mm
Foam Thickness: 50 mm
Glycol Inet/Outlet: G3/4
Water Inet/Outlet: G3/4
Dimension: Ø700*1580
Packing Size: 740*740*1640 mm
Capacity: 500L
Diameter (Inner /Outshell): ¢600 /¢700 mm
Foam Thickness: 50 mm
Glycol Inet/Outlet: G3/4
Water Inet/Outlet: G3/4
Dimension: Ø700*1930
Packing Size: 740*740*1990 mm
*** The magnesium protection,P/T Relieve Ealve,Heating Element,Draindown Valve are all inside ***
*** Material:Inner Tank made by Stainless Steel,Out tank are Galvanized Steel ***