1).Use in any time : It adopts advanced design idea and integrates with high efficiency preheated patent technique, so it can warm the cold water rapidly when it flows through special pipe. It can overcome the short of traditional SWH, such as slow heating, long waiting time.
2).More Capacity: We adopt special exchanging heat mode, it avoids mixed effect, so cold water can be heated at any moment.
3).Strong hydraulic pressure : The hydraulic pressure is same as tap water, it is very suitable for tired person.
4).Economical and Environmental protecting: There is no pollution when it is working since it depends on sunshine. Green and economical.
5).Easy operation : It can supply water automatically, you can take it easy and enjoy good time.
6).Fashionable : The appearance is fashionable and it can great integrate with your fitment.

1).Tank material: interior SUS 304-2B Outer: PVDF / Color steel
2).Frame: A8C-Aluminum alloy ,DAC/WAC- Galvanized steel
3).Heat exchanger: Red copper
4).Pressure: 6 Bar
5).Heat preservation: 72-80h
6).Hail resistance: 25mm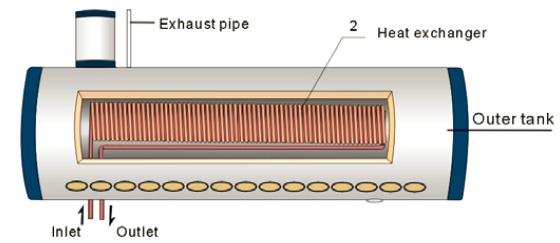 Capacity:Storage 200L updated total 223L,and copper coil hot water unlimit
Vacuum Tubes:Diameter 58mm and length 1800mm
Tubes quantity per unit:20 pcs
Copper Coil:Total 20m work for pressure 6.0 bar
Weight:90 KG
20/40G/40H Container load:35/78/85 pcs
Capacity:Storage 240L updated total 267L,and copper coil hot water unlimit
Vacuum Tubes:Diameter 58mm and length 1800mm
Tubes quantity per unit:24 pcs
Copper Coil:Total 24m work for pressure 6.0 bar
Weight:120 KG
20/40G/40H Container load:32/66/72 pcs
Capacity:Storage 300L updated total 334L,and copper coil hot water unlimit
Vacuum Tubes:Diameter 58mm and length 1800mm
Tubes quantity per unit:30 pcs
Copper Coil:Total 30m work for pressure 6.0 bar
Weight:145KG
20/40G/40H Container load:25/54/58 pcs
*** We can offer the others capacity as your required ***
*** OEM service:we offer OEM products with your logo ***